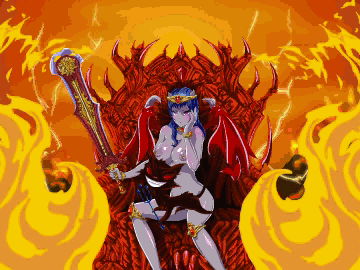 Organized in a comic. Title it "Ganked at Bot!"
Miss Fortune (League of Legends; in her default skin) [External ] gets stuck inside the wall made by Jarvan's Ult like this:
References:
Image
External
External

The following events take place in this order:
1. MF gets stuck in the wall

2. From the outer side of the wall, Draven grabs MF's amazing ass. He says "Subtle?..."

3. Draven continues, saying "I don't DO subtle!" and rips off her pants like in 4:45 of this video (External ), exposing her juicy booty and pussy.

4. MF angrily looks behind her at the wall (unable to see Draven) with this kind of facial expression (External )

5. From the opposite side of the wall Jarvan shows up and pulls MF's top down. She switches her attention to him. Of course she's still pretty pissed off as she looks up at him

6. Jarvan pulls out his cock, saying "You like my weapon?" and puts it really close to her face. MF has an expression similar to this (External )

7. Jarvan finishes his quote "Come on over for a closer inspection!" He grabs one of her arms and uses his other hand to pull her head forward and shove his cock in her mouth. MF has this expression, but with no heart eyes (External )

8. Back on the other side of the wall, Draven says "I've got cock to serve" and forcefully shoves his cock in MF's exposed pussy (External ). Artist chooses an appropriate expression. Artist also chooses if Jarvan's cock is is still in MF's mouth or not at this point.

9. Last frame looks like this with big cumshots from both guys. I'd like the same camera angle, with the wall being transparent both sides of the action. (External ) Artist's choice of MF facial expression.

Somewhere in this frame should also be the announcement "An ally has been knocked up." Of course, Jarvan shouts "DEMACIA!" and Draven shouts "DRAVEN!" as they cum. MF will have a thought bubble with "Trash support won't save me GG" You can add more frames/more camera angles if you want.

Where did her support go? Well, Sona is getting fucked by a Shen who ulted in from top lane. Maybe show the two having their fun in the background of random frames and in different positions. Its okay if they're very small. I just think it's a nice touch.

Bonus: if you can somehow include funny in-game chat somehow, that would be funny to weave in.